Reduce holiday expenses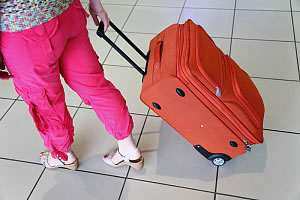 Getting there and back, a roof over your head and food – these are the target areas for savings. Cut these costs and you will have more to spend on fun things.
rule number one:
Ask for discounts. If you don't ask you don't get. The worst that can happen is that they say No. These days, every business is fighting for your dollar, so get into the habit of asking whether that is their best price or best deal. Be prepared to go elsewhere.
rule number two:
Check out all-inclusive packages. I said 'check out' because a package is no guarantee you will save on all the components. However, it is worth knowing what is on offer and there are deals to be had.
rule number three:
Travel off-peak. If you can only get away at peak times you are going to pay dearly for the privilege.
rule number four:
Be flexible. A few days earlier or later can make a huge difference on the cost of airfares and accommodation. Check out all the options. There are companies with empty seats and empty beds to fill. Unused, they are worth zero. Any income is better than nothing so, if you can fit in to their needs, they will chase your dollar.
rule number five:
Consider self-catering options. Food is a major expense on holiday. This may be your annual opportunity to let someone else do the cooking and cleaning up. Perhaps this is worth as much to you as being in an exotic location. If so, know that you will pay for the service. However, if you want to stretch your budget you can save a small fortune with a self-catering apartment. In that case you should spend no more on food than you do at home!
There are many ways to cut the cost of your holiday here and there, but you get the general idea. Other possibilities might include doing a house-swap with someone, or renting out your own place while you are away. Either of these would result in big savings.
Of course, you can decide to throw your budget to the wind and splurge on a five-star experience. Wonderful while it lasts, but not so wonderful when you are still struggling to pay for it a year later, long after the holiday has faded from memory.
happy holidays ...
Submit a comment on this article.
(* required fields).