Save money buying a new vehicle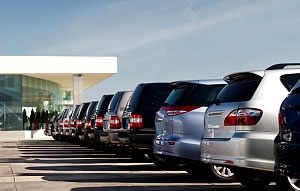 You can save hundreds, even thousands, buying a vehicle. It's not that difficult – if you prepare thoroughly and are aware of the strategies used by salespeople, so that you don't make an impulsive, emotional decision.
To succeed you need information – lots of it. And you must do your homework before you get to the showroom. Research online, read consumer reports and reviews, ask questions of unbiased outsiders.
You also need an attitude that expects to get the lowest possible price, in the knowledge that:
The motor dealer wants your order. They are particularly keen just before the month end, the end of each quarter and the end of the financial year. They have sales targets and there are usually incentives on offer from the manufacturers. Time your purchase accordingly. Be ready to go elsewhere to get a good price.
You will be dealing with trained salespeople. Their tactics are designed to get you emotionally attached to a car, to raise fear in your mind that you may miss out, and to cause you to feel a little guilty that big discounts will take food out of their children's mouths, or lose them their job, or whatever. Don't be suckered by subtle manipulation. Remember: They want your money more than you should want to deal with them in particular. And whatever price you get they will still make money. Why pay more than you have to?
Get a grip on your emotions. Stay logical and focused on the result that you want, which is a low low price. Research in advance:
Different makes and models that would suit your needs.
Features and optional extras
Warranties
Recommended retail prices
Delivery charges (if any)
Servicing and maintenance costs
Fuel efficiency
Finance and insurance costs
Resale value
Licensed dealerships who might supply you, and their reputation
What your trade-in is worth
At the showroom: Let them know that you are a serious buyer, ready to make a decision, but that the key factor is price – and not simply to get a few hundred off a demonstrator model, which is hardly a bargain. Let them know that you are considering competitive makes in the same class.
You want to know their best price, including:
All options
All on-road costs, such as delivery charges, registration, compulsory insurance and taxes
They want to know:
Are you a genuine buyer or a time-waster? Give them reassurance.
What best price you have in mind? You do not have to disclose this.
You don't need to impress them overly, but it is not disadvantageous to you to let them see that you have done your homework. Be humble, and ask lots of questions. And, finally, be friendly, easy-going and respectful. They may warm to you, and you may just get their emotions working for you instead of against you.
COMMENTS:
Complete this form to submit your comment on this article.
(* required fields).