Save on groceries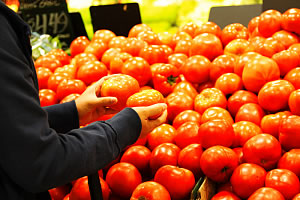 People who don't know how much they spend on groceries are 20 times more likely to have unmanageable levels of debt than those who do know how much they spend. It's an indication: Poor shoppers are poor money managers.
Get a grip on your finances. Start with the food budget. Here are tips for grocery shopping:
You buy less at the supermarket, especially comfort foods, when you shop on a full stomach.
The biggest waste in the western world is food that is thrown out because it is past its use-by date – billions of dollars worth; thousands of dollars wasted every year by every household. Isn't that a shock! Check what is in your refrigerator and cupboards each week, before you make a list to go shopping. Don't buy groceries without a list. In the supermarket, check the use-by date on items you take from the shelves. Often items which are already past the date remain on the shelves.
Don't take the children with you when you go shopping for food. Learn from McDonalds. They aim their marketing at children, who then pester their parents. Kids have the power to destroy your budget. If they get into the store with you, the budget battle is lost.
For fresh fruit, salads and vegetables, buy what is in season, plentiful and therefore cheap. Don't buy fresh foods pre-packaged – you can't see what in the pack is hidden and spoiled, and you pay extra for the convenience. For out of season items buy frozen rather than fresh. Don't buy canned. You are paying plenty for water and the container.
Buy dry goods and other non-perishable items in bulk. You don't have to be an expert on all prices but you should be aware of the cost of items you buy regularly. When the price is hot, stock up.

Example:
We use boxes and boxes of a branded facial tissue. Our supermarket normally prices them at $3.49 but every so often they mark them 'SPECIAL' at $3.29 or, occasionally, at $2.99. They want customers to think they're getting a bargain. Yet the local warehouse store sells the same item for $1.99. We buy 30 boxes at a time. That's a better rate of return than money in the bank at interest, and better than returns from the stockmarket!

We find the same principle applies for toothpaste, soap, laundry detergents, paper towels, etc.
High mark-up grocery items are at eye-level on the supermarket shelves. Look before you leap – look up, look down, and save!
Whatever is for sale at the checkout counter is overpriced. Supermarkets love impulse shoppers.
Since our information is about saving without depriving yourself, I offer these last tips only for the serious, committed saver who is prepared to suffer a little hardship!
Cut down on eating out but, when you do, hold back a little on the extra courses and add-ons that the waiting staff are trained to sell you.
Cut down on visits to the coffee shop. One visit a day, never mind counter lunches and take-away food, adds up to thousands of dollars a year.
Don't buy frozen TV dinners. When cooking dishes such as soups, curries, casseroles, etc, make double or triple the quantity and put the extra into the freezer for those occasions when you don't have time to prepare a meal.
COMMENTS:
Complete this form to submit your comment on this article.
(* required fields).