Ways to reduce fuel costs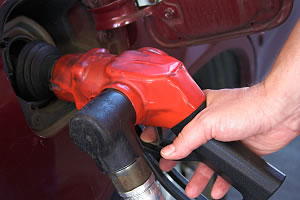 In hard economic times everyone is thinking of ways to cut expenses on essential items such as fuel.
Most of the following simple ways to reduce your fuel consumption are common sense and can be integrated easily into your regular driving routine. It shouldn't take long for these habits to become second nature.
The fuel-efficiency of your vehicle is the place to start.

It may be stating the blindingly obvious but, in general, four-cylinder vehicles are more economical to run than six-cylinders, and six-cylinders are better than eight. Light-weight models are easier on running costs than heavier ones. If you are about ready to trade in your vehicle then this should be a major consideration.

However, because everyone is thinking the same way, the market for gas-guzzlers has fallen while anyone with a fuel-efficient model knows that demand for their stock is increasing. Result: Heavy vehicles have to be sold cheap while you pay top dollar for the smaller models. It may be better to hold on to the vehicle you already have (to avoid losing thousands of dollars in the change-over process) and focus on other ways of softening the blow to your motoring budget.

Reduce the amount of travel. You can't live without wheels but a little forethought can save unnecessary mileage. Think ahead about where you are going. Plan the shortest route. Avoid rush-hours if possible. Getting caught in stalled traffic is going to cost you. One big shop is better than making several journeys for things you forgot. Sometimes it is pleasant to walk or cycle rather than drive. Several short-distance trips eliminated add up to big fuel savings.
Develop the habit of driving a little slower and smoother. Sharp braking and accelerating is a sure way to guzzle gas. Reducing your cruising speed by ten percent could save you twenty percent in fuel consumption over that stretch.
Ensure that your vehicle is fully serviced and properly tuned. Dirty air-filters and spark plugs reduce engine efficiency. Faulty wheel alignment will cost you in fuel too.
Check your tyre pressure. Tyres should be inflated to the vehicle manufacturer's recommended level. Under-inflation causes drag which means the motor has to work harder. Even one tyre under-inflated will have an adverse effect.
Reduce weight in the vehicle. Unnecessary objects on board, such as sports equipment or tools, mean your motor has to work that much harder. It sucks up a surprising amount of fuel.
Reduce drag. If possible, remove roof-racks and spoilers.
Using the air-conditioning unit increases fuel consumption. Switch off unless you really need it. And, do not compensate by opening the windows. That increases drag. Use the internal ventilation system.
Pay attention to the prices on the service station bowsers. If you aren't already keenly aware of competitive prices for fuel then now is the time to develop the habit of checking. Whenever you see a good price on offer, stop and fill up, whether you need to or not.
Record your fuel use. Get into the habit of noting your purchases, your petrol consumption and your mileage. You quickly learn how much more efficient your vehicle is on the open road, compared to stop-start city driving. If you get good at this exercise you will notice that not all bowsers are equal. (There is a service station in our neighbourhood that I will never use again. Their meters were cheating me by around twenty percent.)
Use the manufacturer's recommended grade of fuel for your vehicle. It is not economical to use premium grade when regular will do and, these days, regular is almost always sufficient.
Do not overfill the petrol tank. It runs away through the overflow pipe and is a total waste.
Make sure that the petrol cap is tightly sealed. And think about investing in a lockable cap. In these tight economic times there are fuel thieves about.
Minimise idling time. If it looks like you are going to be stationary for more than thirty seconds switch off the engine.
If a business gives you discount dockets for fuel, save them and use them.
COMMENTS:
Complete this form to submit your comment on this article.
(* required fields).