How to be free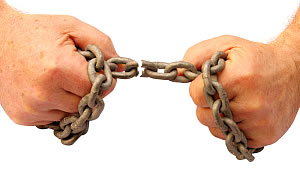 A prime way to set yourself free is to get out of debt.
Without doubt, people have become rich using borrowed money for investments. But investing carries risk, and the complex subject is not one that is to be addressed here. Borrowing to buy a home is probably unavoidable and is much to be preferred over borrowing to finance holidays and luxuries.
Either way, here is goal number one for those who would be free:
Get out of debt as soon as possible.
It's worth the sacrifices.
Here are tips for setting yourself free:
Learn how to manage money. Read books, study, practice, practice, practice. Record, examine and analyze your expenses. Know where your money comes from and where it goes. Project forward. Whether you do it on paper or on the computer, plot the flow of cash through your hands. Knowing what expenses are coming up and being prepared for them, rather than being shocked by unexpected bills, is wonderfully liberating.
Simplify your life. This means different things to different people. A little thought will reveal how many activities and false obligations are weighing you down. Is there clutter in your home that can be sold? Something of no value to you may be prized by me. (That explains the popularity of eBay.) What is wasting your time and wasting your money and resources? Eliminate waste.
Be aware of the power of marketers and advertisers. They are out to convince you that your life will not be complete without their Wonder Product. Learn to sleep on the temptation overnight. Impulse purchases will cost you dearly. Learn to enjoy life without being a slave to consumption and acquisition.
Life is more than competing to keep up with, and overtake, others in the accumulation of possessions and status symbols. Is there anyone more liberated than the person who has nothing to prove and no-one they need to impress?
Quit complaining about rising prices and resist being cynical about your suppliers. Businesses, in our economy, have every right to maximise profits. The only mechanism to keep them in check in a free market is competition. Don't waste emotional energy on what you cannot control. Focus on what you can do. Shop around. Get in the habit of paying the lowest possible price. Take personal responsibility for the things you are able to control.
Habits make you or break you. We all develop routines for working, commuting, cleaning and other activities. Good habits make life easy. They carry us. Bad habits can create destructive addictions. Rather than focusing on eliminating bad habits, work on replacing them with good habits. It takes 21 days to establish a new habit.
COMMENTS:
Submit a comment on this article.
(* required fields).